Product Description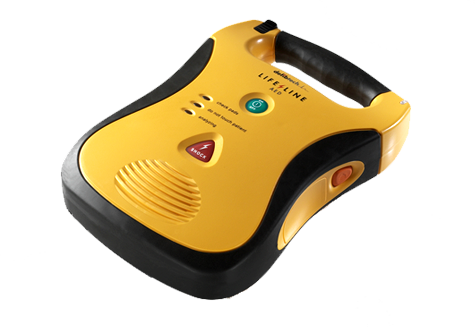 Lifeline AED
The AED that started it all
The original Defibtech AED includes all mission critical features necessary to provide the most advanced treatment for Sudden Cardiac Arrest. It is so simple and unintimidating to use that even non-medical personnel can effectively save lives.
Included in this package:
1 - Defibtech Lifeline AED
2 - Set of Adult Defibrillation Pads (2 year shelf life)
1 - AED Battery (5 year shelf life)
1 - 9V Battery
1 - Facility Sticker
1 - Rescue Kit
1 - Soft Carry Case
1 - Wall Mount Bracket
8 Year Manufacturer Warranty

Saving lives, while rewarding, can be stressful. A calm voice leads the user through the rescue, clearly and concisely stating each instruction, one step at a time. Brightly lit progress lights provide clear visual text guidance to reinforce voice instructions.
Two long life batteries are available: a 5 year battery that will deliver 125 shocks or work continuously for 8 hours or a 7 year battery, unique in the industry, which will deliver 300 shocks or work continuously for 16 hours.
Designed for the Real-World
Lightweight, fully integrated design with no lids or moving parts that would confuse or delay a rescue; a roomy handle big enough even for gloved hands, and rubberized surfaces to ensure a sure grip in an emergency.
The actively illuminated status indicator shows unit readiness, to ensure that the unit is ready to perform anytime, everytime.
"Locate the AED!" Time is of the essence in a rescue. The highly visible yellow color makes the unit easy to locate and deploy
Simple, clear and straightforward: there are only two-buttons on the unit, a green button to turn the unit on and a red one to shock the patient, if needed. The Lifeline AED: simple and intuitive.
Award-Winning Ergonomic Design
Compact, portable and lightweight the Lifeline AED has won numerous awards for design and innovation. It was even displayed at the Museum of Modern Art in New York City as an example of innovative design!
The Lifeline AED has a training version of itself: the Defibtech Trainer AED. The Defibtech Trainer AED mimics the Lifeline AED in form and function, except that all rubberized exterior surfaces are red instead of black, to clearly distinguish the unit as a training device. As a result, the user is training with a training device that truly feels like the real thing.
Extremely durable; manufactured to withstand dust and water ingress; tested to military standards for shock and vibration; jet aircraft and helicopter tested
As protocols change over time, your unit can be upgraded in the field simply by inserting a data card.
Easy to Record and Transfer Data
Data from the unit is recorded and easily retrieved from the device using a data card.
Safe and Effective Life Saving Technology
The Lifeline AED uses biphasic technology, a clinically proven waveform and algorithm to deliver shocks and save lives. This is one of the most widely used impedance compensated waveforms which has extensive clinical experience-and success-in thousands of defibrillators around the world. Evaluation in hundreds of publications has demonstrated this technology to be the safest and most effective when it comes to saving lives.
Other Details
COVERAGE Defibtech, LLC provides a limited warranty that the defibrillator and its associated accessories (e.g., batteries and pads), whether purchased concurrently with the defibrillator as part of a configuration or separately, shall be substantially free from defects in material and workmanship. Defibtech's limited warranty shall only extend to the original end user, where the original end user purchased the items from an authorized Defibtech, LLC retailer. This limited warranty may not be assigned or transferred. The terms of the Limited Warranty in effect as of the date of original purchase shall apply to any warranty claims. LENGTH OF WARRANTY The defibrillator's limited warranty is for a period of eight (8) years from the date of purchase. The battery's limited warranty is for a period of four (4) years from the date of purchase, but in no event shall the limited warranty period extend past the date printed on the battery. Single use accessories (e.g., the pads) shall have a limited warranty up to use or for a period up to the expiration date, whichever is earlier. The limited warranty for all other accessories is for a period of one (1) year from the date of purchase, or to the expiration date, whichever is earlier. LIMITED WARRANTY LIMITATIONS This limited warranty does not cover damage of any sort resulting from, but not limited to, accidents, improper storage, improper operation, alterations, unauthorized service, tampering, abuse, neglect, fire, flood, war, or acts of God. Additionally, this limited warranty does not cover damage of any sort to the defibrillator or its associated accessories resulting from the use of the defibrillator with unapproved accessories or use of the accessories with unapproved medical devices. The defibrillator and its associated accessories are not warranted to be compatible with any other medical device. LIMITED WARRANTY VOIDED The limited warranty is immediately voided if: the defibrillator or its associated accessories are serviced or repaired by any entity, including persons, not authorized by Defibtech, LLC; specified maintenance is not performed; the defibrillator is used with one, or more, unauthorized accessories; the associated accessories are used with an unauthorized defibrillator; or the defibrillator or associated accessories are not used in accordance with Defibtech, LLC approved instructions. EXCLUSIVE REMEDY At Defibtech, LLC's sole discretion, Defibtech shall have the option to repair, replace, or provide a credit. In the event of replacement, Defibtech shall have the right at its sole discretion to replace the item with a new, or refurbished, same or similar item. Determination of a similar item shall be at the sole discretion of Defibtech. In the case of replacement, the replacement at a minimum shall reflect the prorated time remaining for the item based on the remaining limited warranty period. In the case of a credit, the credit shall be the prorated value of the item based on the lower of the original item cost of the same or similar item and the remaining limited warranty period. In no event, shall the limited warranty period of a replacement item extend past the limited warranty period of the item it is replacing. WARRANTY SERVICE In order to obtain warranty service, contact the retailer from whom the item was purchased, or Defibtech, LLC customer service. In the event an item must be returned, a Return Material Authorization (RMA) number is required. Items returned without an RMA number will not be accepted. The item shall be shipped at the original end user's expense to a destination specified by the retailer or Defibtech, LLC. OBLIGATIONS AND WARRANTY LIMITS THE FOREGOING LIMITED WARRANTY IS IN LIEU OF AND SPECIFICALLY EXCLUDES AND REPLACES, TO THE DEGREE PERMITTED BY APPLICABLE STATE LAW, ALL OTHER EXPRESS OR IMPLIED WARRANTIES, INCLUDING, BUT NOT LIMITED TO, THE IMPLIED WARRANTIES OF MERCHANTABILITY AND FITNESS FOR A PARTICULAR PURPOSE. NO PERSON (INCLUDING ANY AGENT, DEALER, OR REPRESENTATIVE OF DEFIBTECH, LLC) IS AUTHORIZED TO MAKE ANY REPRESENTATION OR WARRANTY CONCERNING THE DEFIBRILLATOR OR ITS ASSOCIATED ACCESSORIES, EXCEPT TO REFER TO THIS LIMITED WARR ANT Y. THE EXCLUSIVE REMEDY WITH RESPECT TO ANY AND ALL LOSSES OR DAMAGES RESULTING FROM ANY CAUSE WHATSOEVER SHALL BE AS SPECIFIED ABOVE. DEFIBTECH, LLC SHALL IN NO EVENT BE LIABLE FOR ANY CONSEQUENTIAL OR INCIDENTAL DAMAGES OF ANY KIND, INCLUDING, BUT NOT LIMITED TO, EXEMPLARY DAMAGES, SPECIAL, PUNITIVE, COMMERCIAL LOSS FROM ANY CAUSE, BUSINESS INTERRUPTION OF ANY NATURE, LOSS OF PROFITS OR PERSONAL INJURY, EVEN IF DEFIBTECH, LLC HAS BEEN ADVISED OF THE POSSIBILITIES OF SUCH DAMAGES, HOWEVER OCCASIONED, WHETHER BY NEGLIGENCE OR OTHERWISE, UNLESS APPLICABLE STATE LAW DOES NOT ALLOW SUCH EXCLUSION OR LIMITATION.
Custom Field
Product Reviews