Product Description
Defibtech VIEW Pediatric Pads (<8 Years)
Included in this package:
1 - Set of Pediatric Defibrillation Pads (2 year shelf life)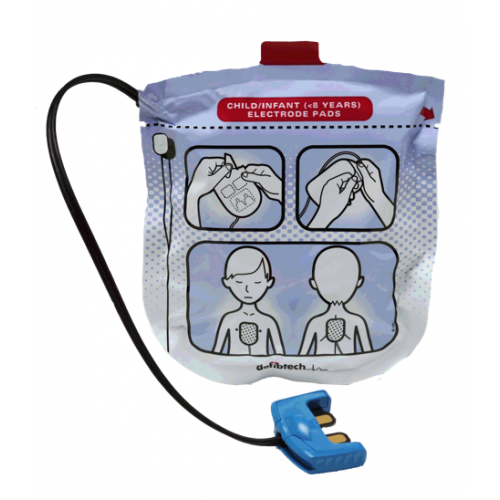 Specifically designed for use on children under the age of 8 years old. The pads are recognized by the AED software when connected which in turn reduces the amount of energy that is delivered if a shock is required. This intention of this is to reduce the possibility of any injury or damage to a developing childs body and organs.
PLEASE NOTE: Treatment should never be delayed to determine the exact weight or age of a child. Although the optimal situation would allow for the use of pediatric pads, if time does not allow for the determiniation of age or switching of pads adult pads can and should be used without delay. When placeing any defibrillation pads on a child it should be noted that on pad is placed on the chest while the other is placed on the back (see illustration on pediatric pad package for demonstration).
Due to the need for adhesive backing, defibrillation pads are a one time use item and should be replacement IMMEDIATELY after any use or prior to the expiry date which is listed on the package.
Product Videos
Custom Field
Product Reviews