Product Description
Philips AED Signature Bundle
Included in this package:
1 - Wall Sign (Model # 989803170921)
1 - AED Awareness Placard (Model # 989803170901)
4 - AED Awareness Posters (Model # 861476)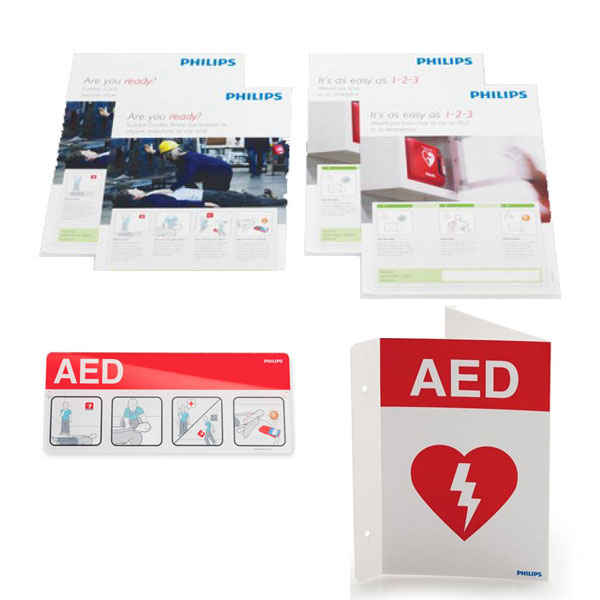 The perfect setup for your Philips AED placement. Ensure that any employee or member of the public is aware that a life-saving AED is on-site and available.
Raise AED awareness by putting an AED Awareness Placard above every AED located in a public area. Easy-to-understand graphics raise awareness of passers-by about how to use an AED in an emergency. Great for office settings, sports clubs, public facilities, school settings and more.
Dimensions:
10.25˝ (26 cm) w, 4.5˝ (11 cm) h
Place these posters away from the AED, in break areas, copy rooms or locker rooms – anywhere that employees or members of the public can take a moment to raise their awareness about AEDs. Includes space for the AED coordinator to write-in the location of the nearest AED. Pack of four posters.
Dimensions:
11˝ (28 cm) w, 17˝ (43 cm) h
An AED Wall Sign hanging above a Wall Mount Bracket or Defibrillator Cabinet gives even greater visibility to the defibrillator. Can be mounted three different ways to maximize visibility: T-mount, V-mount or Corner Mount.
Face dimensions:
9˝ (23 cm) h, 6.1˝ (15 cm) d
Posters, signs and placards are also available in French. If required, please specify at time of ordering.
Product Videos
Custom Field
Product Reviews